Being nine months pregnant gives you some interesting food cravings. This afternoon I was struck by the irresistible desire to eat some caramel corn. Unfortunately I am also on limited funds and hiding from the heat so I had a couple choices: Ignore the craving, or make my own. The fact that I never have seemed of little consequence in the face of the Craving Monster, and so I did some quick online research, checked the pantry for supplies, and dove right in.
This recipe is a combination of a couple that I found online, with some modifications of my own. The only thing I would change would be the ratio of popcorn to caramel; I seemed to have been pretty light with the popcorn, so the resulting product came out a little over coated. Beyond that though, I feel like this was a great success, especially now that the Craving Monster has been appeased.
Craving Monster Caramel Corn
Cooking time: 1 hour
Preparation time: 15 minutes
Total time: 1 hour 15 minutes
Equipment required: Medium saucepan, roasting pan, parchment paper, cookie sheet
1 cup butter

1 cup granulated sugar

1/4 cup water

2 cups dark brown sugar, packed

1 teaspoon salt

1 teaspoon baking soda

2 teaspoon vanilla extract

8 cups popped popcorn, unsalted
Preheat oven to 200 degrees
First, stir granulated sugar into water, creating a sugar solution. (This is my substitute for corn syrup)
In a medium saucepan, combine butter, brown sugar, sugar solution, and salt over medium heat until all ingredients are melted together. Bring to a boil. Boil for five minutes, stirring often.
Remove from heat and stir in vanilla extract and baking soda. Sauce will foam up, so stir vigorously.
In a large roasting pan, pour mixture over popcorn and stir until evenly coated.
Bake in a 200 degree oven for 1 hour, stirring every 15 minutes.
Cool on a cookie sheet lined with parchment paper.
No high end ingredients for me! It's budget all the way baby, until I can afford upgrading my pantry.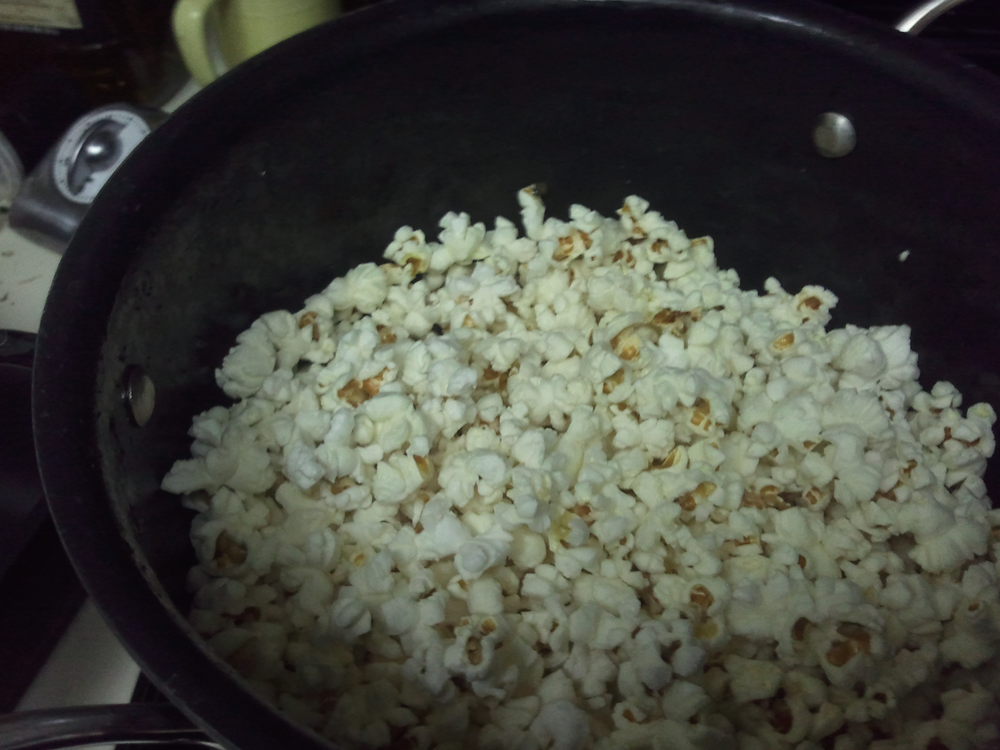 As I mentioned before, I should have popped more popcorn.
The mixture begins. Yes, I need a new saucepan.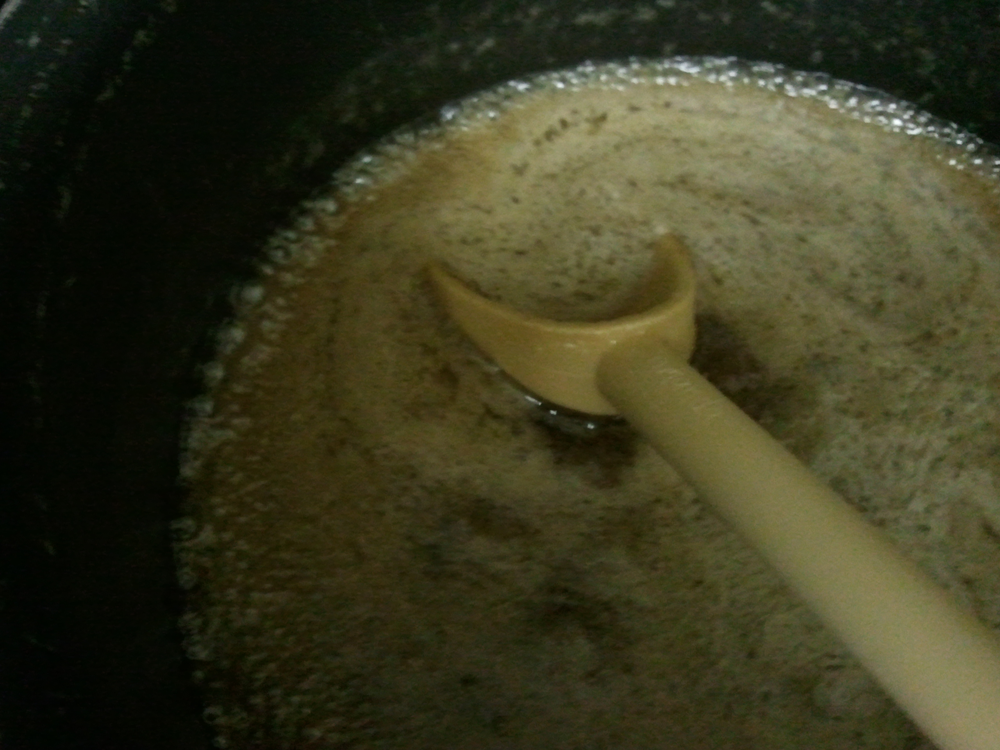 This is what the caramel sauce looked like once it was all combined together.
Make sure to stir often while the sauce boils. It will get nice and bubbly. This is a good thing.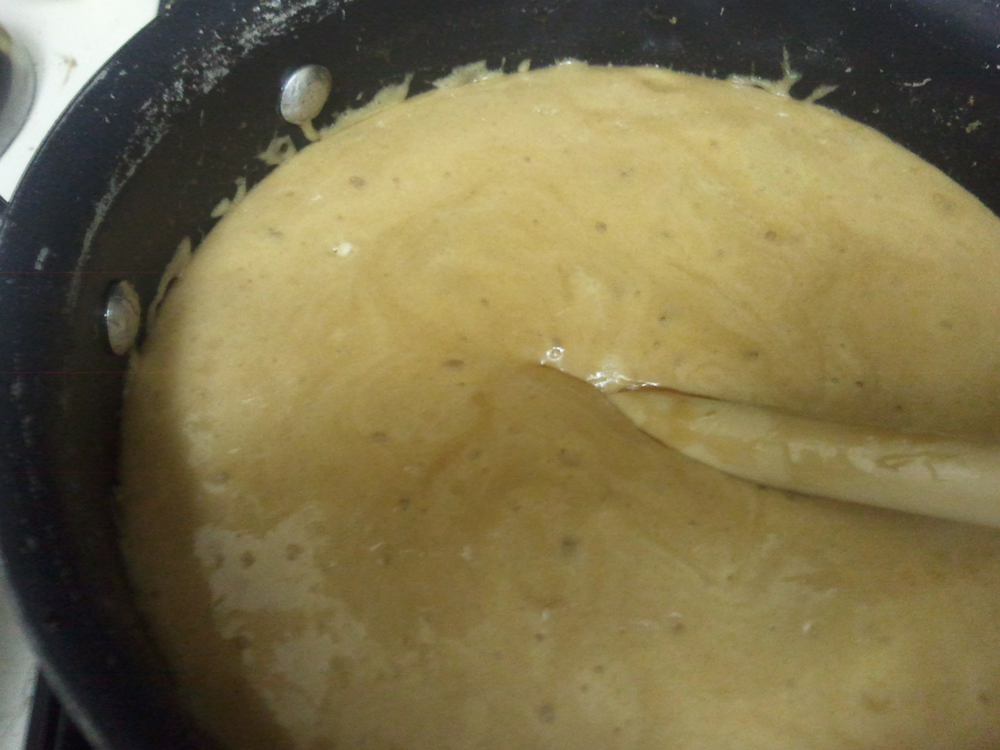 When you add in the vanilla and the baking soda the texture will change and foam up.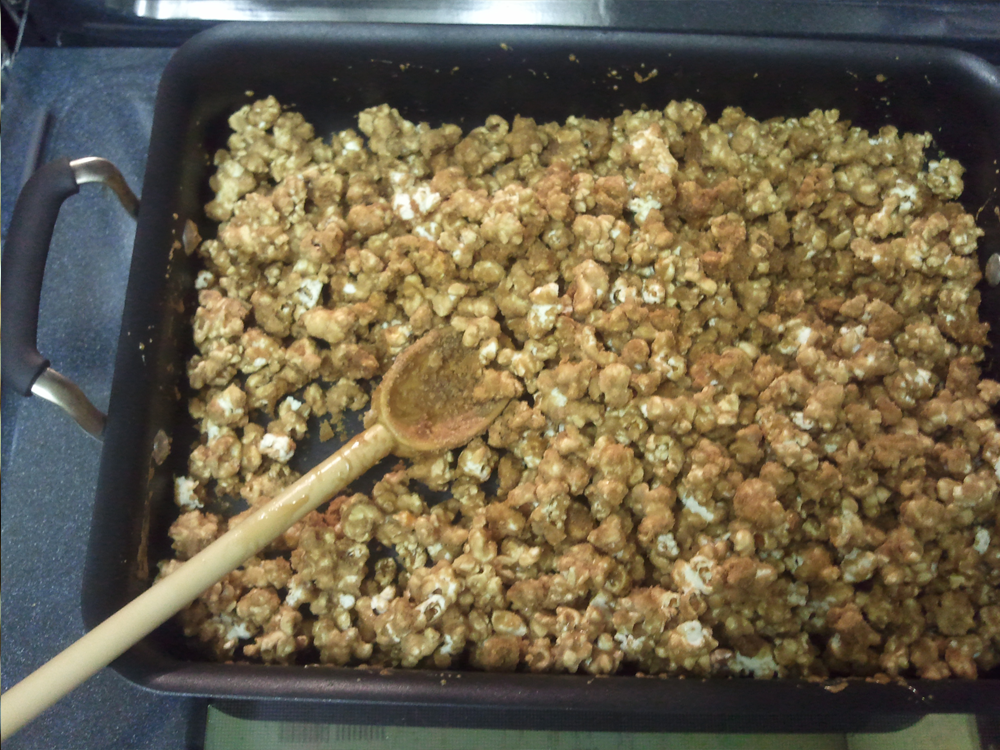 The caramel corn mid-baking.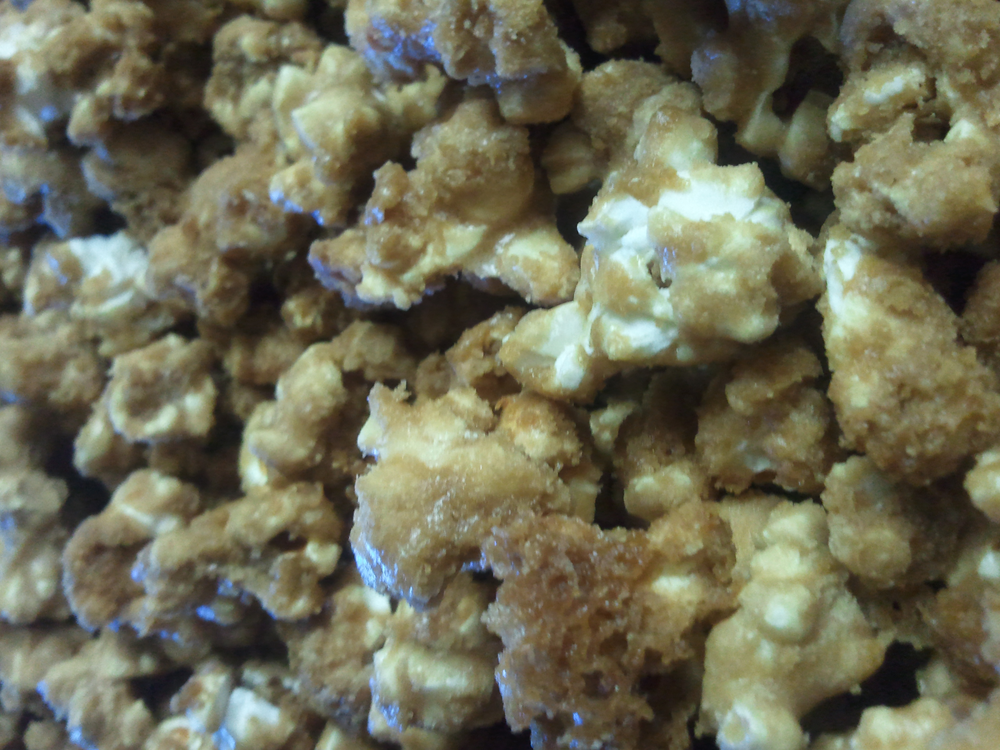 And the final product, right before I filled my bowl and appeased the Craving Monster.
Do you have a caramel corn recipe you'd like to share? Let us know in the comments below!